Specifications
Includes: Integrated Red Aiming Laser
Use: Springfield Armory XD Railed Hand Guns Springfield Armory XD, XD(M), XD MOD. 2
Color: Black
Lumens: 100
Item Weight: 1.12 ounces
Product Dimensions: 2.2 x 2.2 x 2.2 inches
Material: Polymer
Power Source: Battery-powered
Battery Type: CR1/3N
Type of Bulb: LED
Measurement System: Metric
Batteries Included: Yes
Batteries Required: Yes
Battery Cell Type: Lithium
Warranty Description: Limited lifetime warranty
Details
Ultra-lightweight and compact
Batteries can be replaced while light remains mounted on the gun
No need to Re-Sight the laser after battery change
Windage and elevation adjustment screws mounted in brass bushings for long life and dependable zero retention of laser
This is a Class 3R Laser Product, 640-660 nm, Output <5mW
Date First Available: March 7, 2017
Streamlight TLR-6 Installation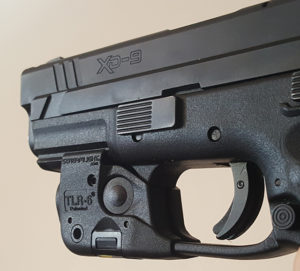 I put the Streamlight TRL-6 light/laser combo on my XD 9 Service model. Installation was extremely easy and the parts fit snug. You can see in the video, that there are three hex screws that need to be removed before installation.
Remove the batteries from the battery compartment before you remove the screws. The battery compartment door is latched and will not allow the casing to be removed.
The Streamlight is in three pieces, the left casing side, the light/laser mechanism, and the right casing side. The fit on the gun is excellent and there is no room for movement once the screws are snug.
I have had other lights on this gun but this one is compact and not a bulky as others I have tried. I think I found a light/laser combo I am going to keep this time.
Streamlight TLR-6 Polymer Build

The light/laser casing and mechanism seem well built and I think this will last a long time. The battery compartment door is a bit light but with a little care, you should have no issues.
Although I didn't do any drop tests, the manufacturer states that the light is "impact-resistant" to 1 meter.
And, although I didn't do any water-resistant testing, the light is IPX4 rated which means it is considered splash resistant but NOT waterproof.
Streamlight TLR-6 In Action
The laser holds its zero well. I put about 100 rounds down range and it worked flawlessly. The light is only 100 lumens, but this is my primary home defense firearm and for short-range indoor use, it will work just fine.
I used the standard FMJ Winchester white box ammo for this test.
The laser is amazingly bright and can be seen as far out as I could point it. The laser was also plenty visible in the light of day at shorter ranges.
Streamlight TLR-6 Operation
The light module has an on/off push button on the left and the right side of the module.
Cycling through the options:
Press and hold the light, will stay on until you let go of the button.
Push and release quickly and the light stays on without a finger on the button
If you press both right and left buttons quickly at the same time, and it will change between modes.

Once: laser and light
Twice: light only
Three times: laser only
The buttons are a bit far away for short fingers to operate while holding the gun at ready. But remember, this is installed on my XD service model and it may be different on a sub-compact XD.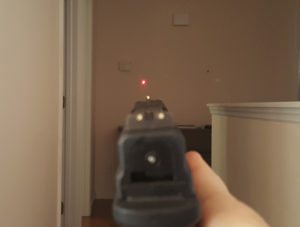 The Streamlight TRL-6 Laser Light Combo is easy to use, not many functions and that is the way I like it. Simple to operate and cycle through the different options.
One other great feature that the TRL-6 has that many of my cheaper lights don't is an automatic shut-off at 10 minutes. I have left lights on during a day at the range and completely drained the battery.
I had the light on for about 25 minutes with no noticeable degradation in the brightness.
Final Thoughts
I would recommend this product to anyone with an XD because I believe it serves its purpose and does it well. You really can't beat it for the price.
Don't let the 100 lumens fool you, this will work just fine for correctly identifying your target in low light conditions. You are not going to get 500 lumen light that will last all day. The TRL-6 has a special application and it fits that well.
NOTE: Streamlight did not provide this for me, I purchased this model with my own money. There was no incentive for me to do a positive review. I will add to this review over time as I use the TRL-6 more often.
Now, once you install a light, your old holster will probably not work anymore. So, I am now in search of a holster that will work for the XD and a light.
UPDATE: As I was writing this review, I found that Streamlight now offers a universal mounting kit for the light so it will mount on various other pistols including Kimber, Smith & Wesson, Kahr, and SIG SAUER.