The Buck 119 Special Fixed Blade knife is an American made classic. Designed nearly 50 years ago, it still holds its place in the world of hunting and outdoor knives. I have wanted this knife for a long time and it always seemed that another toy would move ahead in line. Well, I received a gift card from a friend and figured that this was my chance to get this long-awaited knife and add it to my collection.
After using this knife for a while, I have decided that if I was in an unexpected survival situation, this is the knife I would want by my side. I would choose it over my Mora's and any other pocket or fixed blade knives I have. That being said, here is a warning going forward, I could not find anything bad about this knife.
Buck 119 Specifications
Overall Length: 10 1/2″ (26.7 cm)
Weight: 7.5 oz (213.5 g)
Cocobolo Weight: 10.5 oz (298.9 g)
Made in the USA.
Blade Shape: Clip Point
Blade Thickness: 0.175″
Blade Length: 6″ (15.2 cm)
Handle:  DymaLux® or Phenolic
Carry System: Sheath
Origin: Made in the USA
Cost ~ $60-$70
 My First Thoughts on the Buck 119
This is a great-looking knife that feels great in my hands. The blade is nearly flawless and incredibly sharp. I have used this for some time since I purchased it and the blade has held an edge well. Another thing that is obvious is that the blade is stout. At almost 3/16", it stood up to batoning and prying with no problems. It works well for chopping and slicing alike but doesn't do as well as a Scandinavian ground blade such as the MoraKniv Companion.
I also noticed the milled-out groove in the blade. It is a stylish addition that makes an already great-looking knife, even better.
NOTE: Batoning is a survival or bushcraft practice where a sturdy knife is wedged into a piece of wood and struck repeatedly with another heavy piece of wood in order to split the wood into smaller pieces.
The Buck 119 Unboxing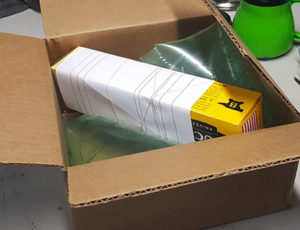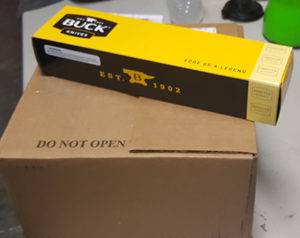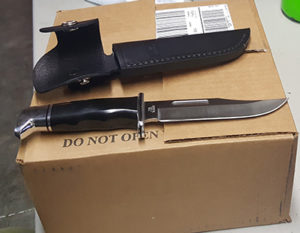 The Buck 119 Handle
The first thing that caught my eye after I opened the box was that beautiful yet simple handle. The Phenolic handle is a perfect grip for my larger hands, but it can get a little slick when wet. I still haven't found a way to make the handle better in this situation so if you have any ideas let me know in the comments. Ok, so there is one small issue with the knife, but I am working on a solution.


A slight benefit regarding the synthetic handle will be apparent in cold weather. When you are outdoors in the cold and go to grab your knife without gloves, you don't get that cold shock you do with cold steel. I believe some of the Buck 119 knives come with different handle materials if the resin is not going to work for you.
The  Buck 119 Handle Guard (Quillon)
Although I have read in other reviews that some don't like the guard, I disagree. I think it gives you a bit more safety and more control. It also helps with your grip and once you have a grip, you ain't letting go.
Keep in mind that this is not a tactical knife, it has too much bling, but I would trust it in a self-defense or survival situation. It is a bit large for everyday carry (EDC) but would be perfect for a bug-out bag (BOB) or a get-home bag (GHB).
The Buck 119 Steel – 420HC Steel
This is Buck's standard blade material because it approaches the wear resistance of high carbon alloys while delivering the corrosion resistance of chromium stainless steels. The blade is quite stout and showed no bend or twisting when under extreme use.
Buck 119 Blade Shape – Clip Point Blade
The crescent tip makes the blade thinner with a sharper tip while still maintaining plenty of strength. This shape provides good control for detail work and cutting in tight places. It is also well suited for intentional punctures like adding a new hole to your belt, etc. While the point of the blade is effective and fairly stout for detail work, it's not as strong as the thicker points on drop points and skinners.
I have several knives with different blade lengths but for general outdoor use, this 6" blade is about perfect.
The Buck 119 Sheath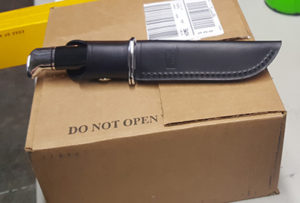 s with a very nice leather sheath that is made in the U.S.A as well. It has a great tight construction and sports a plastic inner sleeve to protect the edge of the blade. The leather is quite thick, and I see no flaws in the leather or the stitching. They have also added a drainage hole in the sheath in case you are out in rain or snow.
The sheath is a bit stiff so if this is an issue for you, a little mink oil and some moderate use, and it will be perfect. Of all my knives, this is the best sheath that has come with the knife. Awesome!
Pros
The knife has an amazing edge
Easy to sharpen
Extremely well built
Nice tip for a thicker blade
Comfortable handle
Beautiful
A lot of knife for the price
Cons
Handle is a bit slick in wet weather
Final Thoughts
I am ending this review with a soft spot in my heart. I have wanted this knife for so long that I was like a little kid on Christmas morning when it arrived. I have many knives that cost much more than this but when I am heading out into the woods, this is the knife in my pack, always. Who could resist a knife that Les Stroud used on his show? That's right, Les used the Buck 119 on his Survivor Man show while in the Labrador region of Canada.
Overall, the knife has been received by outdoorsman and survivalist very well. At the time of writing, the Buck 119 had over 1,169 customer reviews on Amazon with a 4.8 out of 5 ratings.
Anyway, if you are looking for a good all-around knife, the Buck 119 should fit the bill. Sturdy, pretty, and extremely versatile, it should be in any outdoorsman's knife collection.