Affordable Survival and Bushcraft Knife
If you are in the market for a high-quality affordable knife, let us introduce you to the Morakniv Companion knives. The Morakniv Companion is a great example as to how quality doesn't always have to be expensive.  It's very well made and suitable for all sorts of outdoor uses. The Morakniv Companion knives have quite a following in the survivalist and bushcraft communities and it's there that I learned of this affordable beauty. There are great knives and great values, this knife fits both categories.
The Morakniv Companion Handle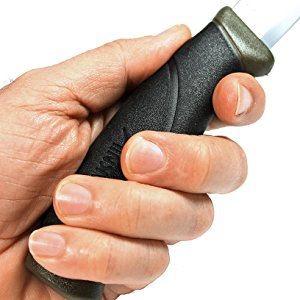 The first thing I noticed when I held this knife, was the performance grip. The grip has a high-friction pattern that performs exceptionally well in wet and cold weather. It forms perfectly to the hand and sits comfortably making it easy to control. It is made of a fairly hard, high grip plastic material that provides great hold and like some knives, it is not over-engineered. I actually like this grip over some of our much more expensive knives.
The Morakniv Companion Blade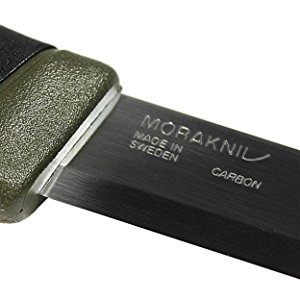 The blade is made from high carbon steel and is amazingly hard and tough. It comes with the classic Scandi (Scandinavian knife culture) grind making it an easy knife to sharpen. One thing I observed immediately is that the blade was extremely sharp right out of the box and has kept its edge for a long time.
I found that the Companion MG performed well during high impact usage such as creating tinder or cutting wood but lacked the side to side strength. An issue I found was, after use in wet conditions, the blade needed to be dried after use to avoid blade rusting. The manufacturer states that the knife "may exhibit a patina or natural discoloration over time through normal usage". I recommend you clean and oil your blade before storage.
The Morakniv Companion Sheath
The Morakniv includes matching, the hard plastic sheath that will keep the knife secure. It features a belt clip for carrying and a drain hole, so water can escape. Now, this isn't the greatest sheath in the world but for the price of this knife, it works just fine.
The Morakniv Companion Overall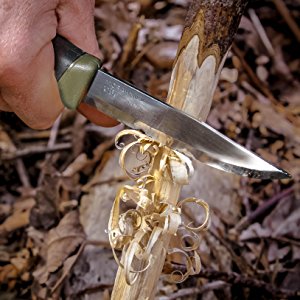 I used the knife extensively cutting through wood, creating tinder and general carving. It performed well on all three but lacked stability while prying. The high carbon steel blade is fairly thin compared to many "survival" knives, and I don't recommend you use it for prying or batoning.
For the price of this knife, you could have several stashed in your various preps.
Morakniv Companion Specifications
| Steel Type | Blade Length | Blade Thickness | Overall Length | Weight | Sheath Type | Serrated | Blunt Tip |
| --- | --- | --- | --- | --- | --- | --- | --- |
| Carbon | 4.1 inches | 2.0 mm | 8.6 inches | 3.9 ounces | Plastic | No | No |