In this post, I am unboxing the 1-Week Food Supply Ammo Can. They claim 1500 calories a day for one week for one person. The Ammo can idea makes these perfect for gifts or to persuade a non-prepper to get their feet wet in prepping.
If you have been thinking about how to get starting in prepping long-term food storage, this would be a great place to start. A complete kit that will last one person one week and it all stores for years.
The ammo can may seem gimmicky, but I think I will be actually using it for ammo. I will put the food pouches in with my other freeze-dried foods. The ammo can is plastic but seems fairly sturdy and should hold up fine with some weight in it.
Some Issues I Had With The Kit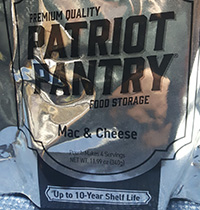 There was a couple of issues I found with the food pouches. I could smell the maple oatmeal through the mylar and this has me wondering about shelf life.
The other issue is with the best buy dates, they range between 10 and 30 years. They claim that this kit has up to a 25-year shelf life but the mac and cheese clearly state 10-year shelf life. So be aware that the low end of that estimate is 10 years.
Shipping
Shipping was fast and the packaging was good. I will do a complete review of how the food tastes and how easy it is prepared. Keep checking back for part 2 of this review.
Get Your Patriot Pantry 1 Week Food Supply Ammo Can
Patriot Pantry 1 1-Week Food Supply Ammo Can
https://amzn.to/2Mo4GOc
Buck 119 Special Knife
https://amzn.to/2W1TbA9
Pouches included in the Patriots Pantry Ammo Can Kit
1 – Long Grain White Rice
1 – Homestyle Potato Soup
1 – Ranchers Black Bean and Rice Soup
1 – Maple Grove Oatmeal
1 – Creamy Chicken Flavored Rice
1 – Hearty Chicken Flavored Soup Mix
2 – Mac and Cheese