Visitors come to The Village Prepper for information on prepping, survival and the great outdoors. They are interested in specific items that help them with every day prepping and surviving through disasters. This niche interest is the perfect platform for you to pitch your product or service if it relates to our content.
I am working everyday to get the message out through search engines, social media and email. Our site is growing exponentially, and I want you along for the ride!
Banner Placements
Right Side Below Recent Articles (300 X 250)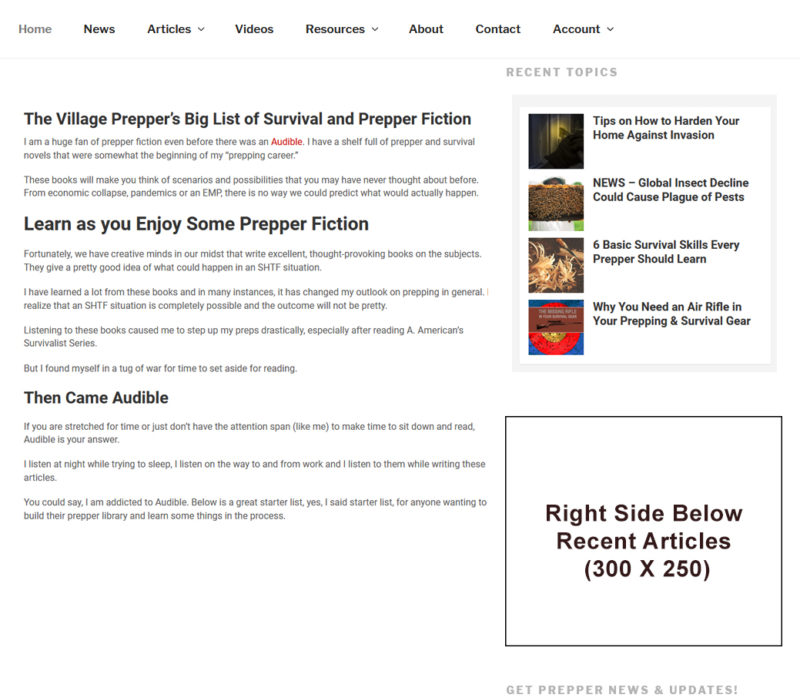 ---
In Article add (300 X 250)
Banner sizes and prices:
| | | |
| --- | --- | --- |
| Placement | Size | Price per Month |
| Right Side Below Recent Articles | 300 x 250 | $25.00 |
| In Post Ad | 300 x 250 | $50.00 |
How it works
Banners are displayed in a random rotation and each impression and click is recorded. Our advertisers (you) take priority over any other form of advertising. Only five banners are placed in any one position, which means your banner will be viewed on 1/5th of the total web site page views, or 20% of the time.
The Village Prepper tracks all activity through Google and Bing Analytics. Further, your ad clicks and impressions are tracked, and a report is sent to you each month.
To get started, just fill out the form below and I will send you the options available, payment information (PayPal) and request for your banner graphic.
Editorial Approval
All banners submitted to The Village Prepper for advertising are subject to approval by the staff. I pride myself on providing our readers with exceptional content and advertising is part of that content. If your ad is not approved, you may submit a new ad or receive a full refund. The product or service you submit must be related to the content that I provide at The Village Prepper.
If at any time your content changes for which the ad is directed, I, at my sole discretion may remove your ad. Ad's for unrelated products or services will not be accepted by The Village Prepper.
Animated banners are subject to stricter rules, please keep them reasonable and non-distracting.
Refunds
There are no contracts and you can cancel at any time. Refunds for the remainder of the current month (month of cancel) will not be refunded. Any month following the cancelation month that has been pre-paid, will be refunded in full.
Reporting and Technicalities
All banner graphics will be hosted on our server and impressions and clicks are recorded. A report will be sent to you via email at the end of each month.
You are responsible for your banner artwork and design.
The graphics file for your ad must be in JPEG, GIF or PNG format.
Payment
All advertising prices are in USD.
Payments are accepted through PayPal
Prices are subject to change at any time, prior notification will be sent. Price changes do not affect the current month (month of price change) and will begin the month following notification
Disclaimer
The Village Prepper is a responsive design site, meaning, it conforms to many different devices and adapts to different screen sizes. The exact behavior of a banner ad is out of our control and may scale down on some devices. I do my best to adhere to all devices but I can't assume responsibility if it does not appear as you expect.
Let's Get Started!
If you are ready to take your product or service to the next level, fill out the form below, choose your banner location and I will get your campaign started! For questions regarding advertising with The Village Prepper,  shoot me an email: advertising at thevillageprepper.com.